"Young people are involved in the placement planning and understand what is expected of them in relation to rules and boundaries. They feel valued."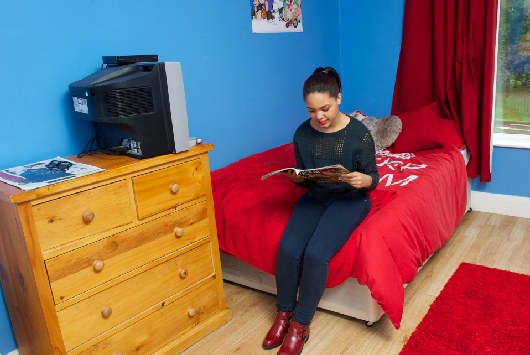 Abbey House offers accommodation for up to five young people, both male and female. It opened in 2009 and is located in Abington, Northampton. It is situated close to local amenities including shops, banks, post office, cafes, parks and sports facilities, local bus service and health centre. Abbey House is within the Northampton Academy Secondary School catchment area and close to Northampton College of Further Education.
Our statement of purpose is available on request.
Feedback
One young person says that "this is the best children's home they have been to."

"Abbey House is a welcoming home and easy to settle into."

Young People
"Everyone at Abbey House tries really hard to help my son with everything and God bless all the staff for helping him."

"Thank you so much for everything you have done for K and our family. You are all really special people and you have given me much needed support and advice. I now feel confident that K's future is us. Many thanks, D and family."

Parents Feedback
Testimonials
"An outstanding level of care is supported by caring and knowledgeable members of staff and underpinned by strong management leadership. Good outcomes for young people are promoted to a high standard. Care arrangements are extremely well structured with exceptional management oversight of all aspects of the service."

"Young people are very positive about the quality of care that they receive and are able to identify the progress they have made while living at the home. There is a relaxed atmosphere within the home with young people befitting form positive relationships and mutual respect shown between staff and young people."

"The outcomes for young people are outstanding. Young people are involved in placement planning and understand what is expected in relation to rules and boundaries."

"This is an extremely well-managed home which meets the aims and objectives of the Statement of Purpose. Young people's needs are met to a high standard by experienced and well-trained staff."

"Young people are cared for in a safe and well-maintained environment. The organisation understands issues of health and safety and has implemented a range of monitoring checks and risk management strategies which support safeguarding arrangements."

Ofsted