Jacob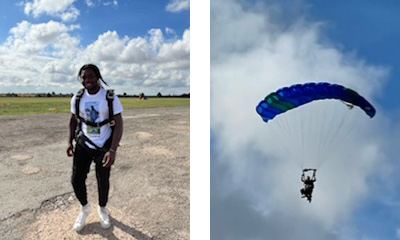 Hi, my name is Jacob and I would like to share my first experience of skydiving. I decided to go skydiving for my 16th birthday but instead of just jumping out of a plan I decided to jump out of a plane and raise money for cancer.
I raised over £600 and I got a thank you card from the cancer support team where they also said have a fantastic day which I did by the way. The dive was sick, I jumped from 13000 feet on Wednesday 31st August 2022 at the Hinton Skydiving centre. It was a really cool day.
I remember jumping through this cloud that had a circular rainbow round it which was the best bit, everyone was really nice, and I enjoyed it a lot.
PW (Previous YP – Lilac House)
At Lilac the staff were so kind and supportive and made it such a nice home to be in. They helped me when I was struggling and supported me through those times as best as they could. Lilac isn't just a home it's a family.